One of my favorite go-to recipes is chicken meatballs. They're so juicy and flavorful, and what's best is you can eat them in a sub, you can eat them on their own with a salad, or you can eat them with pasta…they're just amazing. Writing about them makes me want to make them right now! So here's the recipe, it's super easy (as are all of my recipes) and quick to make.
2 cups finely chopped mushrooms
1 cup finely chopped onion
2 garlic cloves minced
1 TB butter
2 TB olive oil
1/2 tsp salt
Preheat a large pan over medium heat, add the butter, olive oil, mushrooms, onions, garlic, and salt, stir them all together and let them cook for 5-7 minutes, then set aside to slightly cool.
1 1/2 lb ground chicken
1/3 cup bread crumbs
1/4 cup grated parmesan cheese
1 TB Italian seasoning, or substitute with 1 tsp dried oregano, 1 tsp dried thyme, 1 tsp dried marjoram
1 tsp paprika
1 tsp salt
1/2 tsp ground black pepper
1/2 tsp garlic powder
1/2 tsp onion powder
2 TB olive oil
In a large bowl, add all of the above ingredients except the olive oil, then add the cooked mushroom mixture to this and combine. I live to wear gloves when I handle any meat, and it makes it less sticky. Make sure to combine well. Next you want to shape your meatballs. I like to line a plate with plastic wrap and then spray it with olive oil spray so that the meatballs don't stick to the plate. you can make the meatballs any size you want, but I generally make them the size of a golf ball.
Ok, so now you're ready to cook them. Preheat a nonstick pan on medium heat, then add the 2 TB of olive oil. Add the meatballs and cover, let cook for about 3-4 minutes, then gently turn over the meatballs. You want to try to brown all of the sides of the meatball. Total cook time should be about 12 minutes, which is 3-4 minutes on each side. Next, to the same pan that the meatballs are cooking in, you want to add a jar of your favorite pasta sauce or marinara sauce. I love the Trader Joe's brand organic marinara sauce for this. Let the sauce and meatballs simmer for 10 minutes on low heat. Lastly, you want to top them off with your favorite cheese, I prefer either provolone, or havarti.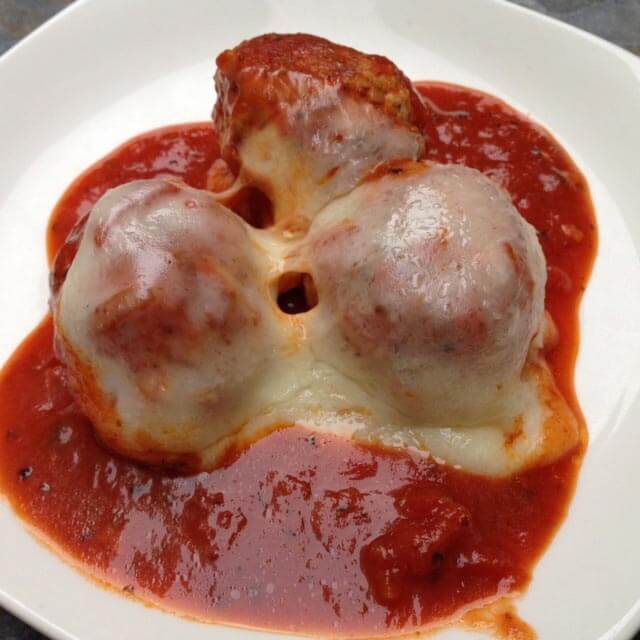 And that's it, you're going to eat the best tasting meatballs you've ever had. The mushroom mixture keeps the meatballs moist and juice. You can even use this same recipe for beef or lamb meatballs.