About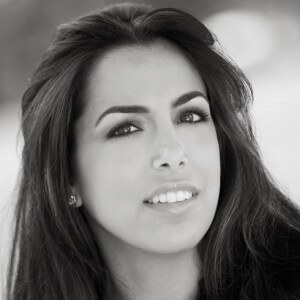 Mediterranean cuisine specialist Denise Hazime acquired a love of cooking at a very young age. Growing up in a large Lebanese family steeped in culinary tradition, she was exposed early on to a wide range of cooking techniques from her mother, who taught her the essentials for preparing all types of Mediterranean dishes. As a child, if she wasn't in the kitchen helping her mother cook, she was in front of the TV watching Julia Child and Jeff Smith on the Frugal Gourmet.
As an adult, Denise's love of cooking remained a hobby. Although she wanted to use her skills and extensive knowledge of Mediterranean cuisine to pursue a career in the culinary field, she decided instead to attend Wayne State University where she earned a degree in History and Chemistry followed by two years of Law School at the University of Detroit-Mercy.
After marrying her husband Crisantos in 2006, Denise left her hometown in Michigan and moved to California. Unhappy with the lack of quality Mediterranean restaurants compared to that of Michigan, she realized that in order for her and her husband to eat the foods they love, she would have to make them herself. Since she loved to cook, she took this as an opportunity to turn her hobby into something more.
In 2007, with the help of her tech savvy husband, Denise launched her website Dedemed.com and her YouTube channel with the hopes of sharing her knowledge of Mediterranean cuisine with all those wanting to learn to cook the food they love, eat healthy, or to get back in touch with their cultural roots. With interactive video recipes she teaches people how to make their favorite Mediterranean and Middle Eastern foods at home — everything from Hummus, to Falafel, to Baklava and Couscous.
Denise's Hummus recipe video quickly became the #1 Hummus recipe video on YouTube with over half a million views in 2011 and is third across all cooking videos only to two from the Food Network. Her engaging, 'everywoman' manner has drawn a large, loyal following of foodies, cooks, and the health-conscious, devoted to her tried-and-true authentic recipes and her quick-and-easy cooking tips that give this tradition-based cuisine a modern twist.
Her constant online interaction with fans has brought her into their lives in a way only food can. Denise knows how personal and emotional food is, tied to memories and hopes, health and culture. She has experienced the far-reaching impact of her recipes in a way she never expected, both personally and in business.
In 2010, with the advice of her husband (a Marine veteran) and the popularity of her cooking videos giving her the assurance she needed, Denise opened the first Mediterranean food stand – DedeMed's Shawarma House – on Marine base Camp Pendleton. It was a huge hit with the soldiers on the base who were craving the foods they ate while deployed in the Middle East. This also spurred the interest of a Wall Street Journal reporter who did a front page story on her on March 15, 2010, writing, "DedeMed, …queen of the mashed chickpea spread called hummus."
Denise's global reach grows daily, with those eager to learn more about or discover for the first time all the tangible and intangible benefits of Mediterranean cuisine.