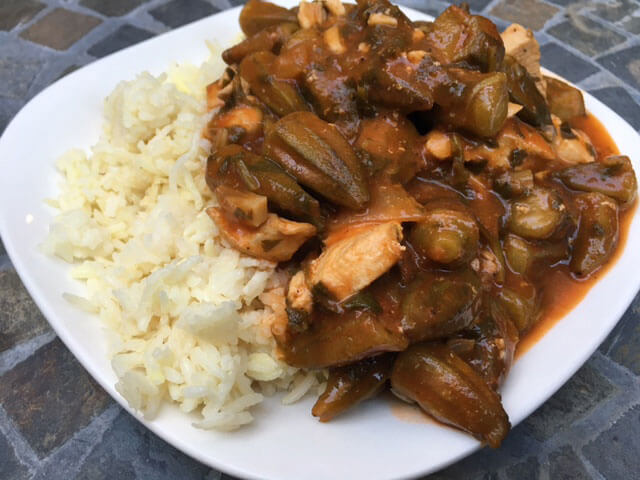 As a kid, I used to hate okra, my mom used to make those long 2-3 inch okra and I would hate it, I thought it was slimy and gooey and I would not eat it. THEN, I discovered mini okra and my relationship with
okra
was revived. And I love making stews for my daughter because she gets in all of her food groups, especially vegetables, without struggling to get her to eat it. I love my
okra recipe
, it's quick and simple. There are actually 3 ways to make it, with lamb or beef, with chicken, or without any meat vegetarian style. Today, I chose to make it with chicken, I like to watch my red meat intake, so replacing red meat with chicken works great!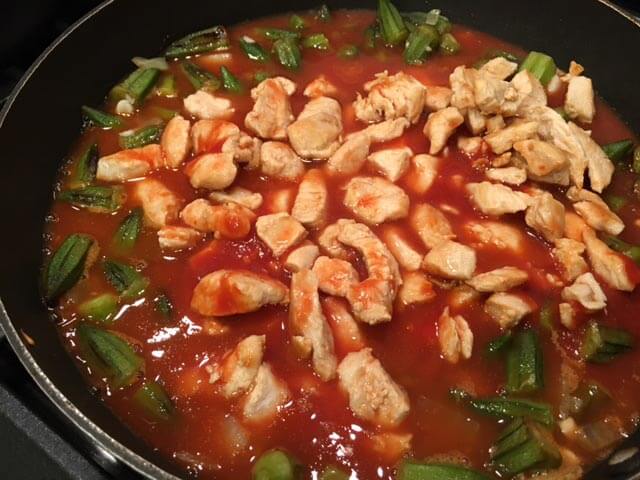 Instead of boiling the chicken, I use boneless breast or thing, cut it up, sautee it and then add it to the stew after I've sauteed the okra, onions, and garlic. My sister was hesitant to try chicken in a stew, but once she did, she was hooked.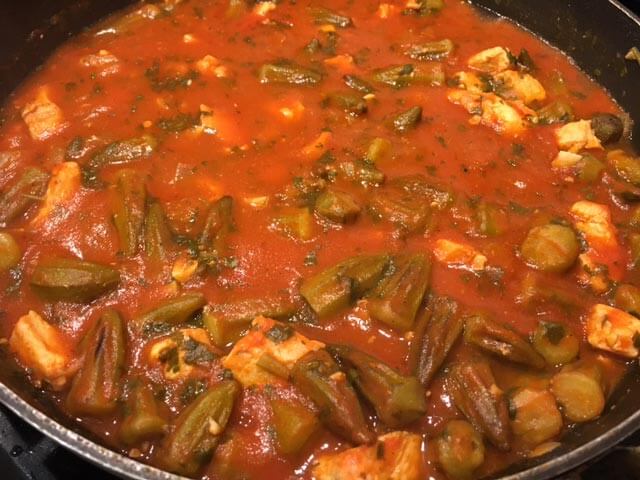 And make sure to let it all simmer for at least 10-15 minutes so that all of the flavors can mend together and create an amazing tasting sauce. I've recently started adding 1 tablespoon of sugar to my tomato based stews, I took that tip from the Italians, it really does help to level the flavor of the sauce and balance the acidity, I LOVE IT!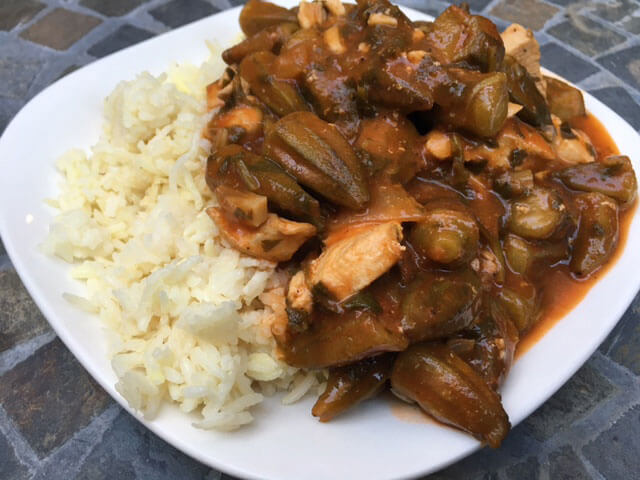 Serve it with some fluffy rice and you have a well balanced meal. It's great for weekday meals because it is quick and easy, and you can even prep it the night before. And I like to make a lot of it so that it lasts for 2 nights worth of dinner. Recipe:
https://dedemed.com/mediterranean/bamia-okra-stew/
No Comment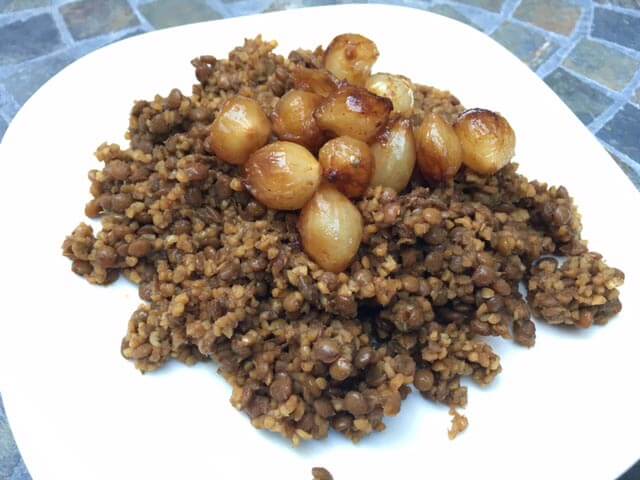 Well there is a perfect dish that combines complex carbs and proteins…it's called
mujaddara
, it's lentils and bulgar wheat with A LOT of FLAVOR!!!! It's a simple easy recipe that you can whip together in under 30 minutes.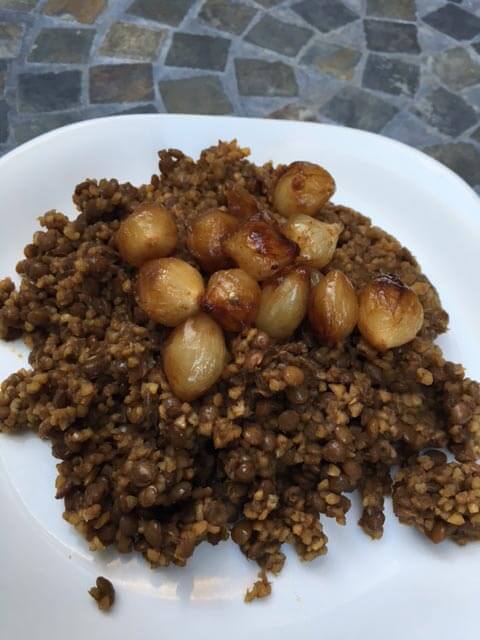 The yummy caramelized onions give this dish the pretty redish brown color and nutty flavor, And then you top it off with more caramelized onions, it's just heaven! I love eating this with my
tzatziki sauce
, or my
cucumber & tomato salad
, or even with a simple cabbage salad. You will love this dish, it's great for lunch, dinner, or even a side dish. Best of all it's VEGAN and VEGETARIAN so you are winning on all ends of the spectrum…if there was a perfectly balanced dish, then this
mujaddara
dish is it!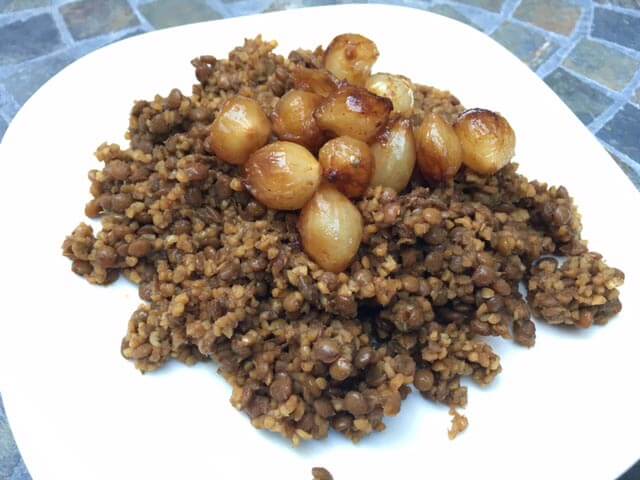 Here's the recipe:
https://dedemed.com/mediterranean/mujaddara-hamra-recipe/
No Comment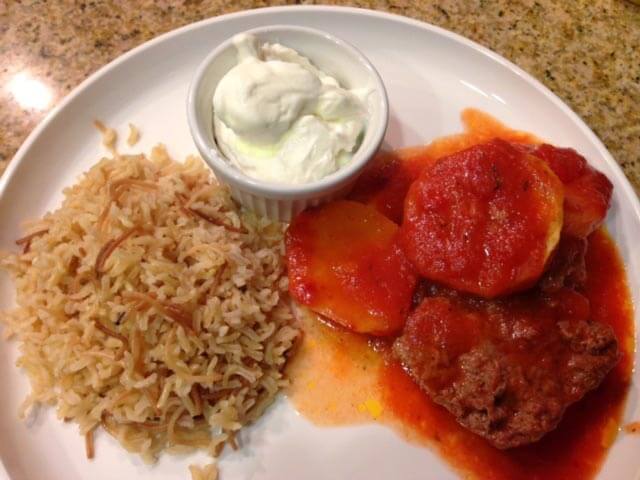 Sometimes you just don't know what to cook, but you're looking for something hearty and filling…cereal is definitely not going to do that, and neither is a sandwich…but this recipe definitely can. It's called kefta bil sanieh, which technically translates to ground meat in a pan, but it is sort of a layered casserole. The video for this recipe is up on my youtube, but the written recipe is not up on my site yet, so here it is: 1lb ground beef (you can use ground lamb or ground chicken instead if you prefer) 1 cup yellow or white onion finely minced 1 tsp salt 1/2 tsp black pepper 5 large potatoes peeled 2 TB olive oil 1/2 tsp salt 1 16oz can plain tomato sauce 2 TB tomato paste 1 tsp salt 1/2 tsp black pepper 1/2 tsp garlic powder 1/2 tsp onion powder 1 TB sugar 4 cups water Preheat the oven to 425 degrees. So first what you want to do is to mix the beef, onion, salt, and pepper, then flatten in out in a large deep casserole dish. Place that in the oven for 15 minutes. Next, toss the potatoes with the olive oil and 1/2 tsp salt, lay them flat on a baking sheet and place them in the oven for 15 minutes as well. I usually put the casserole dish and baking pan in the oven at the same time. In a large pot, add the tomato sauce, paste, salt, pepper, garlic powder, onion powder, sugar, and water and bring to a simmer, then remove from the heat.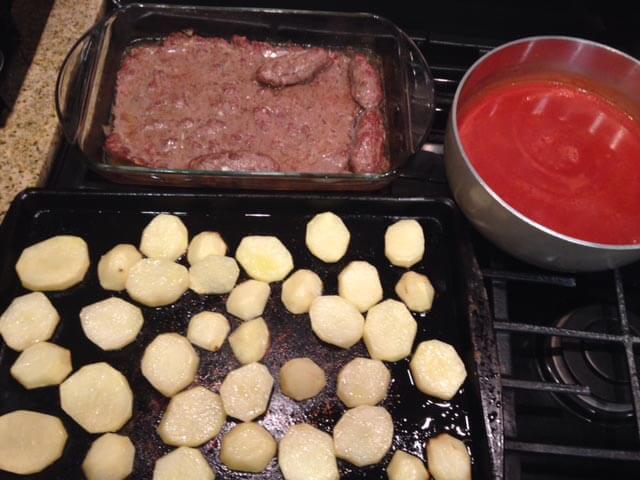 Sometimes when I think the ground meet layer is to thick, I'll ball up the left over meat into fingerlike shapes and add it to the pan. Essentially, you can shape all of the meat to balls, or fingers, or leave it flat, I've seen it done all 3 ways. Now it's time to assemble the dish, add the potatoes on top of the meat, then pour the sauce evenly over the entire dish. For added flavor and design, you can thinly slice some tomatoes and add that on top as well. Place the casserole dish in the oven and let that bake for another 20 minutes so that all the flavors can merrily mend.
Serve with my
vermicelli rice
and a side of Greek yogurt and you're done!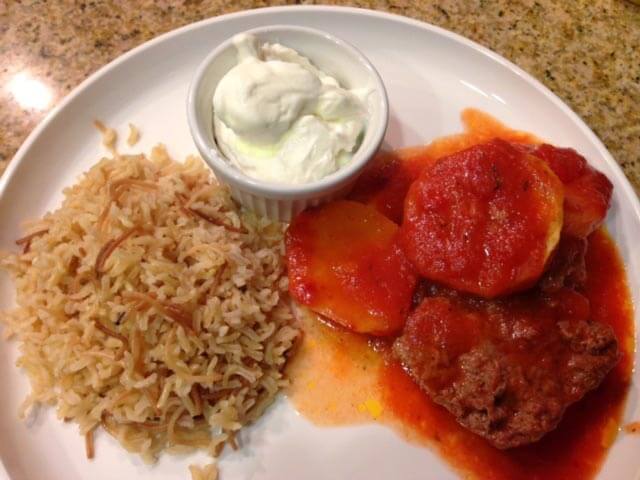 It's a simple and easy recipe, my kids and husband love it and it's so simple to make!
No Comment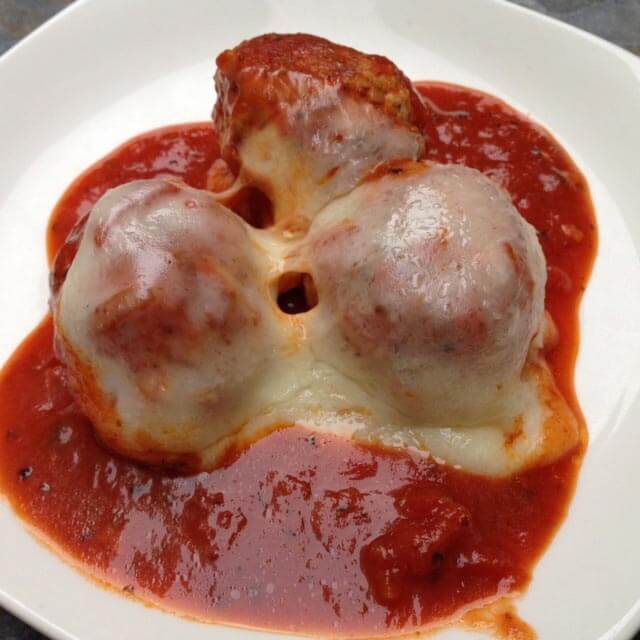 One of my favorite go-to recipes is chicken meatballs. They're so juicy and flavorful, and what's best is you can eat them in a sub, you can eat them on their own with a salad, or you can eat them with pasta…they're just amazing. Writing about them makes me want to make them right now! So here's the recipe, it's super easy (as are all of my recipes) and quick to make.
2 cups finely chopped mushrooms
1 cup finely chopped onion
2 garlic cloves minced
1 TB butter
2 TB olive oil
1/2 tsp salt
Preheat a large pan over medium heat, add the butter, olive oil, mushrooms, onions, garlic, and salt, stir them all together and let them cook for 5-7 minutes, then set aside to slightly cool.
1 1/2 lb ground chicken
1/3 cup bread crumbs
1/4 cup grated parmesan cheese
1 TB Italian seasoning, or substitute with 1 tsp dried oregano, 1 tsp dried thyme, 1 tsp dried marjoram
1 tsp paprika
1 tsp salt
1/2 tsp ground black pepper
1/2 tsp garlic powder
1/2 tsp onion powder
2 TB olive oil
In a large bowl, add all of the above ingredients except the olive oil, then add the cooked mushroom mixture to this and combine. I live to wear gloves when I handle any meat, and it makes it less sticky. Make sure to combine well. Next you want to shape your meatballs. I like to line a plate with plastic wrap and then spray it with olive oil spray so that the meatballs don't stick to the plate. you can make the meatballs any size you want, but I generally make them the size of a golf ball.
Ok, so now you're ready to cook them. Preheat a nonstick pan on medium heat, then add the 2 TB of olive oil. Add the meatballs and cover, let cook for about 3-4 minutes, then gently turn over the meatballs. You want to try to brown all of the sides of the meatball. Total cook time should be about 12 minutes, which is 3-4 minutes on each side. Next, to the same pan that the meatballs are cooking in, you want to add a jar of your favorite pasta sauce or marinara sauce. I love the Trader Joe's brand organic marinara sauce for this. Let the sauce and meatballs simmer for 10 minutes on low heat. Lastly, you want to top them off with your favorite cheese, I prefer either provolone, or havarti.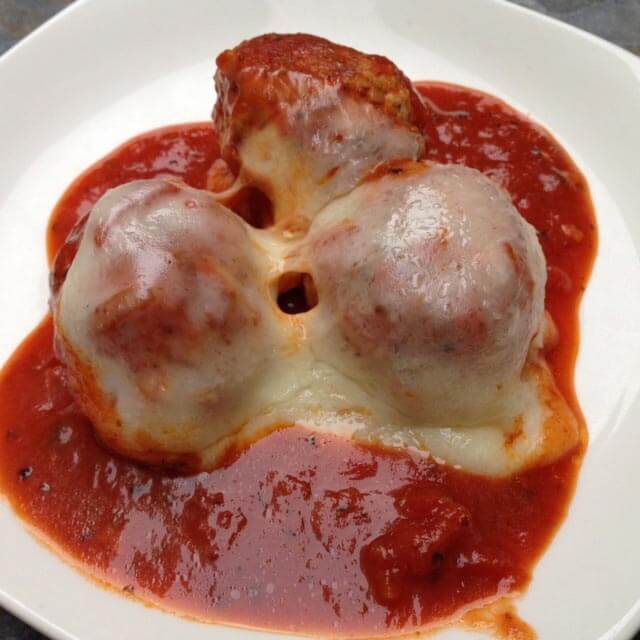 And that's it, you're going to eat the best tasting meatballs you've ever had. The mushroom mixture keeps the meatballs moist and juice. You can even use this same recipe for beef or lamb meatballs.
No Comment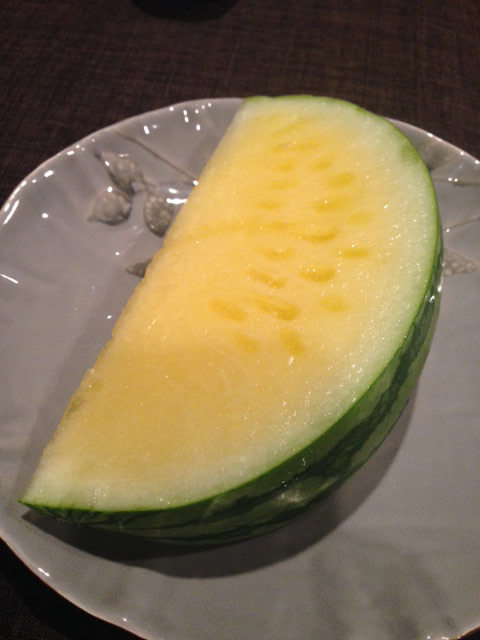 Has anyone every seen yellow watermelon? I was hesitant to buy it at first, and my daughter even went "yuck" when I cut it open. But then I tasted it, it tasted better than the pink watermelon!!! So I forced her to try it, and she LOVED it!!! Yes! I do force my child to try everything at least once, then if she doesn't like the taste she doesn't have to eat it. BUT I found that 9 times out of 10 she ends up liking it and eating it. I'm with the the parenting style that MOM's know best, and my child will NOT dictate to me, I will dictate to her.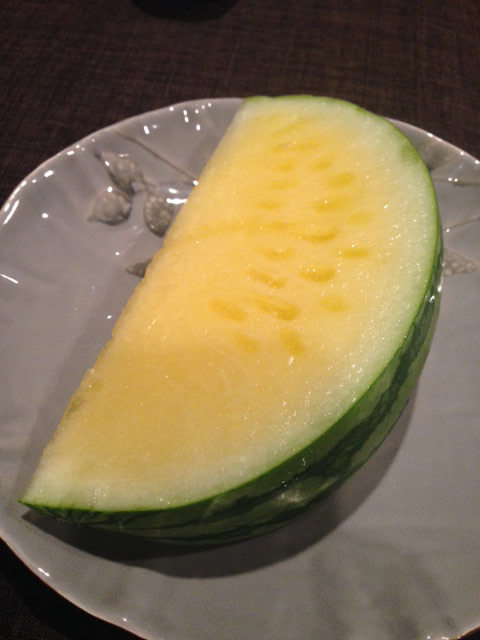 Sorry, I went off topic…so If you find an oddly colored fruit, like this yellow watermelon, don't be afraid to give it at try!
No Comment