So yesterday I was in the mood for shish tawook (grilled chicken skewers) but I didn't have time to skewer the chicken, I was in a bit of a hurry. I decided to just cut the chicken breast into thin wide slices and grill them as chicken strips. I was also out of yogurt so I just left that out of the marinade. The chicken tasted amazing! It was tender and juicy, just make sure not to over grill it, I grilled it on low for about 10-12 minutes, it was perfection! So next time you're in the mood for grilled chicken, just use my shish tawook marinade recipe and skip the skewer part!
No Comment
I was inspired on Sunday to make a ful mudammas (Breakfast Beans) when I saw a post from one of my cousins on instagram, she had made it for her family. Â I haven't made this dish in a few months but I always crave it…I guess I get to lazy sometimes (hard to believe I know) Â Luckily I had the fava beans in my pantry, I whipped it up in about 7 minutes, and even got my little toddler to eat it as well…I was a happy mommy. Â A breakfast/brunch full of protein with a large side of vegetables, definitely a MUST TRY!!! Here's the recipe:Â 
https://dedemed.com/mediterranean/ful-mudammas-recipe-breakfast-beans/
No Comment
When I was a kid anything green would be thought of as "ewwwww", whether it was green bean stew, okra, or spinach. Â But I loved spinach pies, so my mom would say, see you do like spinach, just like Popeye! Â I eventually got over my aversion to "green" food and started to embrace it more when I found out that I was anemic. Â I figured I had to integrate it into my everyday regiment…and so I did. Â Here's a super easy spinach dish that's full of flavor and nutrients! Â The recipe is not yet up on my site, it will be up this week, but here's the link to the Youtube video:Â 
https://www.youtube.com/watch?v=gWXDTINJzu4
No Comment
Yes yes yes! I am a pumpkin addict, and I have been for a very long time now. Â NO, I didn't jump on the pumpkin bandwagon, I've been obsessed since I was a little kid. Â Soooo, when I moved to California I discovered Trader Joe's and their plethora of pumpkin goods. Pretty much anything you can imagine, pumpkin ravioli, pumpkin ice cream, pumpkin cream cheese, pumpkin crackers, pumpkin jam, pumpkin oatmeal…I mean the list is endless. And being the pumpkin junkie that I am, I buy it all in large quantities so that I can try to extend the enjoyment of pumpkin well beyond the fall season.
Now one this I DO NOT buy is pumpkin soup.  This earthy soup is slightly sweet and savory. It is amazingly flavorful and not overwhelmingly pumpkin.  It's definitely a must try.  Check out my easy 
pumpkin soup
 recipe here on DedeMed.com and you can even make it in large quantities and freeze it, which is what I love to do.  Another is my 
pumpkin kibbeh
, which is a very traditional dish…but that's a different blog post.
https://dedemed.com/mediterranean/mediterranean-pumpkin-soup-recipe/
No Comment
There's still time to find some fabulous parsley at the grocery store. And what's even better, I don't know of any other salad that lasts for 2 or 3 days in the refrigerator after being mixed, it even tastes better the next day! Â So whether your looking for a side dish or a main dish, this tabouli salad hits the spot!
No Comment
My favorite place to shop during the fall/autumn season is Trader Joe's. They have fantastic pumpkin products, beautiful flowers, gourds, squash, and best of all fruit. Of course it's apple season, and me being from Michigan, I have a strong bond with my apples. I found some beautiful honeycrisp apples and red anjou pears, they were just calling my name. If you find honeycrisp apples at your store, they are a must buy!!! Now, what recipes will I make with these apples…Â 
Trader Joe's
No Comment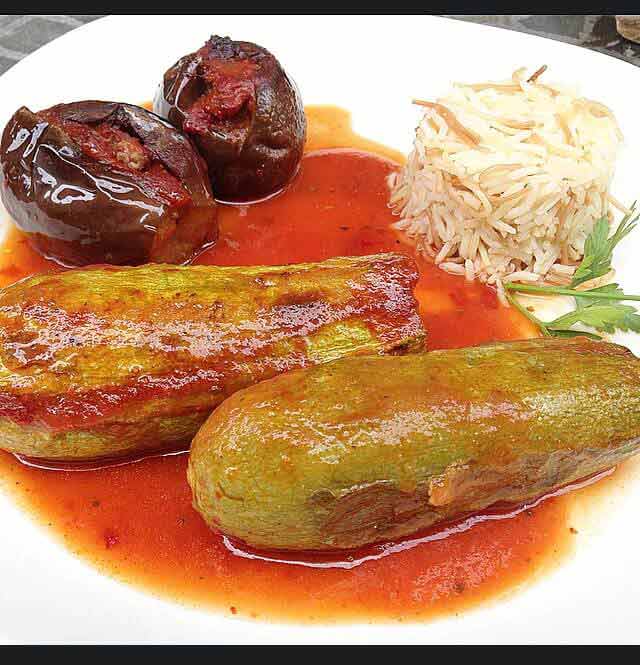 So sometimes I go to the grocery store with no idea of what to make for dinner, but then I walk through the vegetable section and find my inspiration. A few days ago I found some amazing Mexican squash and these mini eggplant, they were just calling out for me to make stuffed squash and eggplant, which I also call ablama and sheikh el mihshi. I used the squash pic to core out the squash, I also call it a kusa pic on my sit, and if you don't have one you can buy one on my store page
store.dedemed.com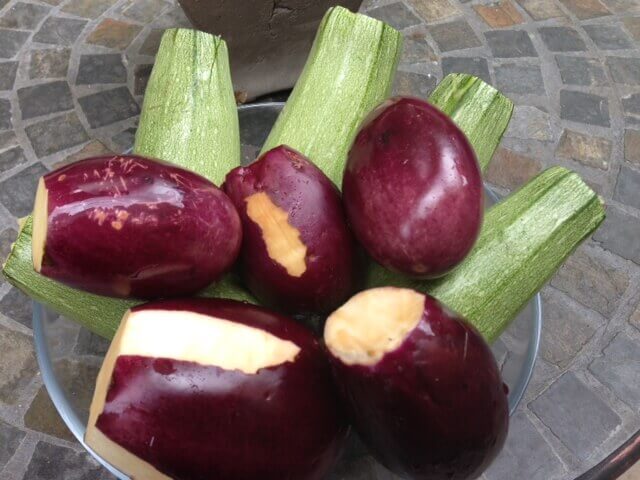 I made this beautiful and fragrant stuffing, it was amazing! I had to keep myself from eating it up before I used it to stuff the vegetables.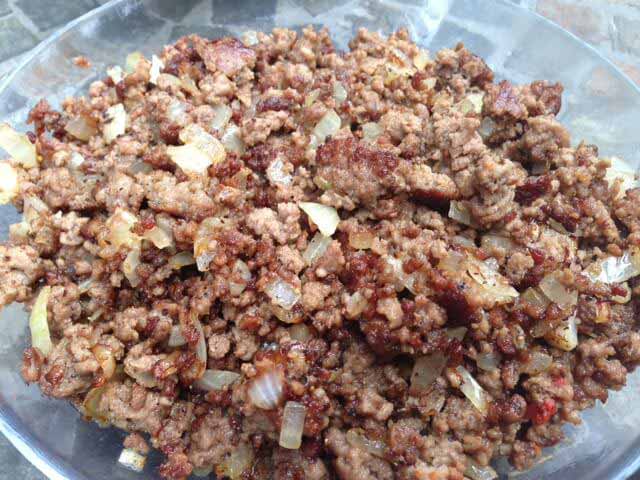 I aligned them beautifully in my casserole dish.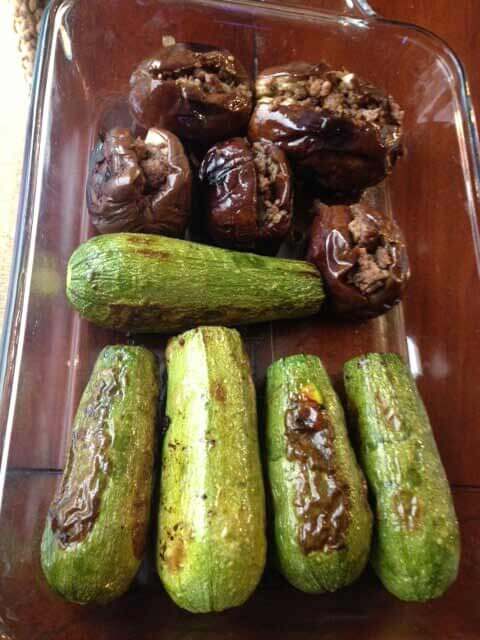 Lastly just pour your tomato sauce gently over the stuffed squash and eggplant and bake. While they were baking I prepared my rice to go on the side. I also love eating this dish with a nice spicy hot sauce, like a Louisiana hot sauce that has that nice vinegar taste to it…I think I may need to make this again!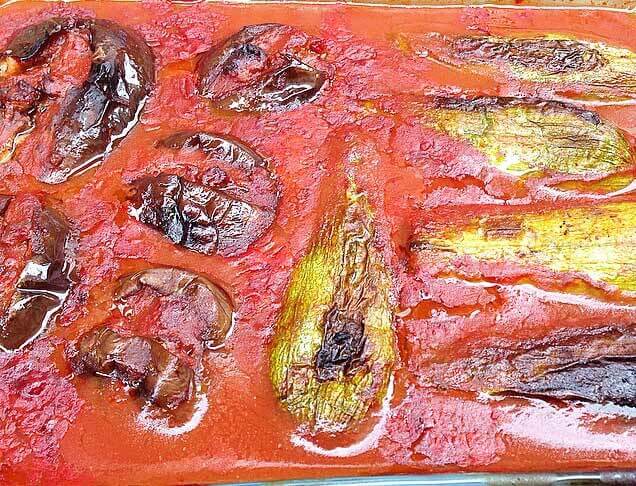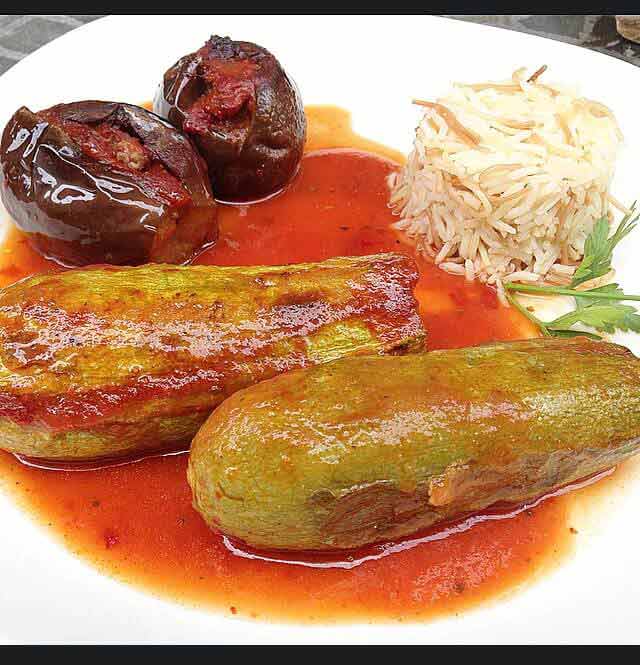 For the recipe go to:
https://dedemed.com/mediterranean/stuffed-baked-squash-and-eggplant-recipe-ablama-2/
No Comment